TALT delivers a web based software tool for commissioning and maintenance processes. The TALT Guiding Tool runs on an online multi user platform accesible via PC, Tablet and Smartphone. An intuitive "App" makes it possible for users to use the tool offline where connections are bad.
TALT
TESTER

TEST
MODULE
Digitize test documentation
Execute tests
Record test results and open items
Clear test overview for
clients, reproducible
TALT
CONTROLLER

CONTROL
MODULE
Register Punches (open items) from testresults
Add files and pictures
Assign Punches
Prioritize punches
Record solutions
Steering instrument for solving punches
TALT
LOGGER

LOG
MODULE
Record daily activities per user
Log history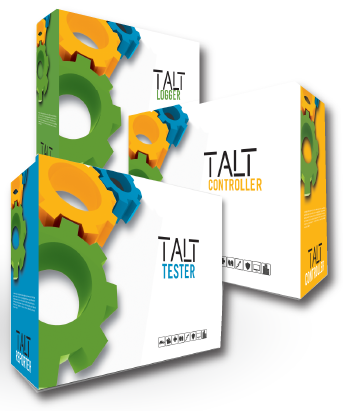 10 BENEFITS OF TALT PROCESS GUIDENCE TOOL
No more testing with paper forms, but digital on a tablet.
Mitigates the risk of losing test results.
Closed loop system and clear and uniform deliverables.
Picture feed for remark and improvement lists.
Review possibilities on test results in the field and in the office.
Clear conditions, responsibilities and empowerment.
Assigned person/supervisor will receive list of open items per test.
Reduce costs and improving quality.
Results of test & commissioning process controlled and insightful.
Test procedure and test data de-coupled, hence better control on test and better insight in results across repeatable tests
About Talt
MISSION
TALT contributes to improving work processes and makes use of the latest technological developments. TALT makes commissioning processes more manageable and insightful by means of self-developed web based software programs. Continuity, consistency and an attention for detail are our main drivers.
VISION
Smart web based multi user programs -operated via PC or practical App- will provide a big step forward during testing and checking of installations and company processes.
Essential analyses and advice will be provided after the intake. Sometimes delivery and implementation of the standardized software modules will suffice. In other situations a combination of software and advice will enable the best end result. E.g. organization advice, change management, process structuring, organizational structure, roles & responsibilities and project management. Starting point is organizational and user group readiness in order to start using the software. Only then the optimal efficiency improvement and end -result will be achieved. TALT facilitates training and support of users. User interaction related to everyday practice is a condition for further improvement and development. Key success factor in adopting and implementing of the software is close cooperation, based on empathy, understanding and mutual respect.
FOUNDER
Kees-Jan Wijn has more than 25 years of experience in various functions, roles and disciplines. From business development, change- and project management, consulting and business improvement. Passion for efficiency improvements, introducing new technologies and focus on end-to-end processing. Mostly operating at the borders of the core business of companies, thus supplying complementary skills.